Thursday, September 22, 2011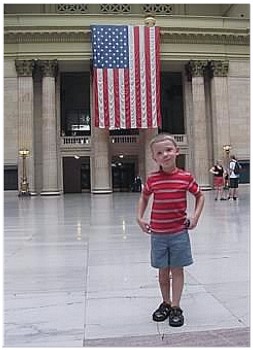 Picture In Portrait 5x7 folded card

Saturday, September 17, 2011
Friday, August 19, 2011
Tuesday night was "Back to School Night". We took in all the fun supplies, met the teacher, found his desk, etc. Best part was, there's a Guinea Pig in the room. His name is Snickers.

Most exciting part might be getting to ride the bus back to the day care for after school care. These are some BIG busses!

I think Back to School Night did more to eliminate the momma's fears than the child's. He has none. Let the adventure begin!

Obligatory First Day of School photos! I was wondering if this was the same shirt he wore for the first day of preschool last year? Nope, whew!
Thursday, 8/18/2011

New backpack from our friends the Whitehills. Stuffed full of fun stuff!

I think i could have left him at this point and he would have done just fine. But I went in with him and helped him find his table in the commons, before the teachers all came to collect them.

Sigh....secrets with cute little girls in braids already...This is one of his friends he went to pre-school with. She's such a cutey, unfortunately they are not in the same class.

Another buddy. He is in the same class. Once again, I could have left and he would have been fine, but i needed those first day pics in his classroom for scrapbooking...yeah, that's it.

He was likely telling me "I got it from here, mom."

Cubby found, stuff put away, desk found, name badge found. Sighhhhh... He's got it all under control. No tears, barely a hug and kiss goodbye.

Our state fair is going on this week, we went on Wednesday. The big celebration was the 100th year of the butter cow. Whoo Hoo. There's quite a history and you can read all about it here, if you're interested...

We saw all kinds of interesting and fun stuff...

Randy and LAD road the Crazy Mouse. LAD was just barely tall enough to ride.

There were lots of little concrete cows scattered all around. Painted and decorated up in many different themes. LAD took this photo.

Maybe one of my favorite photos of the day.

This years butter cow tribute to Duffy Lyons, who sadly passed away this year.

View from the gondola ride up the hill...

Sand sculpture in the Cultural center...This was awesome!

Click on the photo to bigify it. LAD was fascinated with the cotton candy this year. He was also very disappointed we missed the horses, they had all left the day before. He was actually in tears that we didn't get to see a horse show...guess i had better plan better next year...

We made our traditional visit to the spin art guys, always a hit. And found a bumper boat ride.
Note to self, do not park near the gate near the carnival entrance next time.